3 Mexican Dishes Made Healthier
One of my favorite things to do is take a meal we love and make some small little tweaks to it to make it healthier.  It is amazing that all those little tweaks can add up to really big changes in your health. I have seen it in my own family and now thanks to this website and my side job I am getting to see it more and more in my friends and family (and their friends and family).
After some requests and conversations with some of you I decided I would do a series that shared some of my favorite meals that we have tweaked to make healthier! Today we will start with Mexican Dishes! Coming up in the series will be Italian food makeovers, snack overhaul, desserts made healthier, healthier fast food, and so many more! If you have a meal you would like help with making some tweaks to feel free to ask me on our Facebook page!
Today I want to share my families three favorite Mexican dishes and how I tweaked them to make them healthier.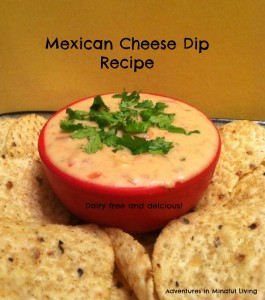 Ok so let me be honest , I could eat this stuff everyday! Before we came up with this recipe we would do like most people and just buy a jar of cheese dip at the store. Pop it open and heat it up, it didn't get much easier than that. But here was the problem, what we were buying was loaded with stuff that was not good for us in anyway. It might have tasted like heaven but what it was doing to our bodies was hell.
When I tackled this recipe I knew I would not get an exact copy of what we were used to eating. Its kind of like expecting a veggie burger to taste just like a greasy cheeseburger (not going to happen). But I knew I could come up with something that we would enjoy that could take the place of what we were used to. And I did just that with lots of taste tasting from my family and all of my sweet friends. Now this is one of my most popular recipes on my website and I am asked a lot if I can bring some when I get together with my friends.
So how did I make it healthier? I took out all the cheese (both processed and real) that was in most recipes I could find and I replaced it with cashews and nutritional yeast. It sounds crazy I know but the cool thing about cashews is when prepared right it can give your dishes the creaminess that you get with cheese. The nutritional yeast gives it this cheesy taste without having to use cheese. There is no cholesterol in this recipe at all and it is so much lower in calories. The cashews also add in a healthy fat and some great protein.
These were my favorite thing to order at a Mexican restaurant. I loved them!! But again just like the mexican cheese, the version I was eating was loaded with cheese that just wasn't good for me. They also tended to be almost fried in oil when I got them at my favorite mexican restaurant. It didn't take a genius to know that couldn't be good for me or my family (who also liked them).
Once we came up with a Mexican Cheese we loved this was an easy fix! I also added in more veggies to help me feel more full. With the kids I have even added in a little pureed veggies before. I don't really worry about that much anymore though becasue they take this everyday.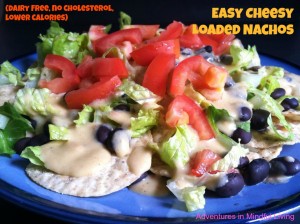 This is one of my families favorite meals. The version we used to eat would be loaded up with hamburger and cheese (and light on veggies if I am honest). It was a super easy meal to make and even easier to enjoy it. It was loaded with trans fat, mega calories, and cholesterol. We would eat it but then fill sluggish the rest of the night. I knew what were eating wasn't helping us get healthier at all, in fact it was doing the opposite really well.
To make this meal healthier we did a couple of things. I replaced the hamburger with black beans (I found that sauteing them a little with some onions before I put them over the chips really made it taste great and I never missed the hamburger) and replaced the cheese with the mexican cheese recipe from above. I loaded up with veggies like colored peppers, onions, and then added things like lettuce and spinach. Adding all that in made it really hearty meal!
We love these meals and at least one of these shows up on our weekly meal plan every week! I hope these have have given you some ideas how you can tweak some of your meals too!
Have a mindfully great day!