3 Refreshing Spring Cocktails
I am super excited to share with you a guest post by  Jennifer Altrogge , a mother, do-it-yourselfer and a blogger. She has come up with 3 Refreshing Spring Cocktails that would be perfect for  some many of your spring time celebrations or just as a nice way to relax at the end of a day! You can catch up with Jennifer on her blog BecauseIWrite.com !
Ahhh, it's almost spring. Love is in the air, the cool breeze tickles your cheeks just to get them peachy and feeling refreshed.  What better way to celebrate spring than by mixing up some tasty refreshments.
As the crape myrtle trees start to bud, you can look to fresh ingredients to spiff up your cocktail in a jiffy. These concoctions are easy to prepare and require little ingredients, which makes them affordable as well.
Here are 3 bright and delicious cocktails to celebrate the blooming springtime.
Apricot Bellini
There are many ways to enjoy a fruitful glass of champagne. Bellini's are a very easy, sweet and subtle way to enjoy champagne. Apricots are in season for the spring, so this is a good time to pair with champagne or sparkling wine.
The fresher the ingredients, the better, but any will do. For your apricot Bellini, you'll need:
Sparkling wine or Champagne

Fresh apricot, pitted and sliced

apricot nectar
Pour your glass of sparkling wine in a flute and add in a slice of fresh apricot with a splash of apricot nectar and bravo, you have a new, seasonal twist on the bubbly.  
Strawberry Basil Gin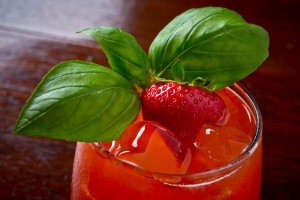 Basil is a good plant to grow indoors on a sunny windowsill or in a Tower Garden. If you have you're own basil plant, congratulations, you've saved a trip to the grocery store! Strawberries and basil are like peas and carrots. These two flavors compliment each other in a mecca of recipes, so they can be mixed with any type of alcohol. For this recipe, we are going to use gin. Gin is a refreshing cocktail that fits into the theme of spring. For this recipe you'll need:
Your choice of gin

Tonic water

Fresh strawberries

Fresh basil

Fresh lemon juice
Puree strawberries. Fill your cup with ice and then add in a tablespoon or two of strawberry puree, add in a few basil leaves. Once you've determined how much strawberry and basil is good for your personal taste, then add in your gin followed by topping it all off with some tonic.
Grapefruit and Wheat Beer
Wheat beer is brewed with a large portion of wheat and for some reason this beer variety taste good with a splash of citrus. Grapefruits are in season for the spring so why not add some to a good local wheat brew? This is a easy breezy recipe that will take your beer drinking experience up a notch. What you'll need is.
Local or favorite wheat beer
Pour your wheat beer in a glass, add slice of grapefruit and even a little squeeze. Enjoy!
Final Thought
You'll find that fresh ingredients enhance any food or drink. A little something natural can go a very long way. Nature is a very important part of life so it's important to give back to nature with many thanks. Take care of the planet and be sure to drink responsibly!