Breakfast Cookie Recipe (Healthier Version)
A couple of months ago I came up with this recipe for a Breakfast Cookie becasue I wanted a quick and easy breakfast for my kiddos. I love breakfast cookies because I can make them up ahead of time and they were easy to pack some amazing nutrition into.  I decided to take that old recipe and tweak it to make it just a little healthier for my kiddos! To cut the sugar down I took away the brown sugar and added some molasses.I also added in a serving of Vanilla Complete. The Vanilla Complete Mix is a protein rich drink mix that provides balanced nutrition in every scoop. Much more than a protein shake  you can use in baked goods, Complete Shake Mix provides the benefit of whole food nutrition through nutrient packed pumpkin and pomegranate powders, a blend of ancient grains, and more nutritious ingredients. The shake mixes are as tasty as they are healthy! If you don't want to use the Complete mix I would add in a sweetener (at least 1/2 cup of sugar- you might have to adjust this to your families preferences)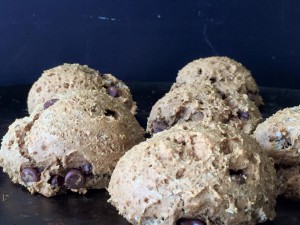 Breakfast Cookie Recipe (Healthier Version)
Ingredients:
2 eggs
3 Tbsp of pumpkin seeds  (optional- you can use any other type of seed or nut)
3 cups whole wheat pastry flour
1/2 cup uncooked oatmeal
1/2 cup almonds
4 Tbsp of hemp seeds
1 tsp sea salt
1 1/2 tsp of baking soda
1 cup unsweetened applesauce
1 Tbsp of Molasses
1 scoop or single serving of Vanilla Complete
2 Tbsp vanilla
1 cup of chocolate chips ( I like the Enjoy life brand- its dairy free)
Directions-
Preheat your oven to 350 degrees (F).
Put your oatmeal, almonds, hemp seeds, and pumpkin seeds in a food processor or if you have something like a NutriBullet use that. You are going to want to pulse it down until it resembles bread crumbs.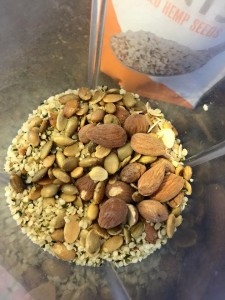 If you don't have a food processor you can still make this recipe. Your breakfast cookies will just have a different texture to them. I would use old fashioned oats and chopped almonds if you don't want to put them through the processor.  One of my children has sensory issues with food so texture is a big deal to him, that is why I blend mine down.
Now add all the other ingredients and mix well in a large bowl.
I scoop mine out with an ice cream scoop so they are all the same size (so no- hers is bigger than mine fights). You can do the same or make yours smaller.
Bake the breakfast cookies for about 10-13 minutes (ovens vary so just keep an eye on them not to burn). Let them cool for a few minutes and then enjoy!
This is a really good basic recipe so feel free to tweak it and make it what your family enjoys! I like to blend up the seeds and nuts just becasue I have found that picky eaters are more likely to eat it if they don't see a bunch of nuts and things it it. You could also add raisins to sweeten it or dried cranberries.
I usually double this recipe so I can have breakfast cookies for the week for my kids. They store really well and are a great after school snack too!
Feel free to share or pin this breakfast cookie recipe for later!