Busy Mom Sushi Bowl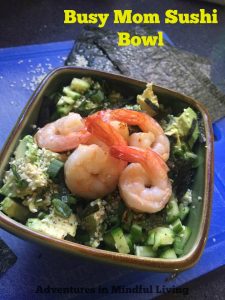 Super Easy Busy Mom Sushi Bowl
I love sushi, and I have made it several times for my husband and I. But let me tell you it is messy and not the easiest thing to do. Now that we are right in the middle of a pretty busy season of life it is one of those things that I rarely make.
Most of the time when a sushi craving strikes we just order some takeout. While I am a fan of takeout, I really do like to make food at home when I can. I would rather spend my money on things like experiences instead of things or food that I'm not going to really enjoy eating.
This lead me to sushi bowls. They are an easy way to enjoy sushi without all the hassle and cleanup.
I came across a food blog that had a super easy one to make with video directions.  I watched it and decided to give it a go. I did tweak it a little as I do with most recipes because I am a picky eater.
I thought I would share some things I found worked for me so cut down on time. The first one was I used boil-in-bag jasmine rice. It made it super easy and fast for me to make the rice. I could throw in a pot and let it boil away without having to pay a lot of attention to it. I think you can use whatever rice you like and have. I like the jasmine because it has a subtle fragrance to it and does not get all mushy like regular rice does. This of course is just my thoughts on it. in other recipes that call for rice I just use regular rice but since the rice is a main part of the meal I choose somehting a little nicer.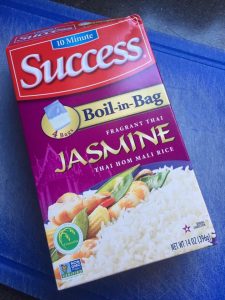 Another thing I did was I just chopped everything up instead of trying to make it all maybe look super beautiful. I cut the scallions and nori wraps with scissors because it just works faster for me. Plus my avocados never come out looking the way everyone else's do so I just don't sweat it.
Another thing I love about sushi bowls is that it is so easily adaptable to what you like. I love shrimp but I'm not a fan of Spicy Sriracha mayo (but my husband loves it) or pickled ginger. So I don't put those things in mine and I add more shrimp. You can do the same thing. Add what you like and leave out what you don't. I also added hemp seeds in mine. I was sprinkling the sesame seeds on mine and I thought- why not add hemp seeds? I am always trying to add in more whole food nutrition to my diet (this is the easiest way I add it into my diet) so it just worked with this recipe.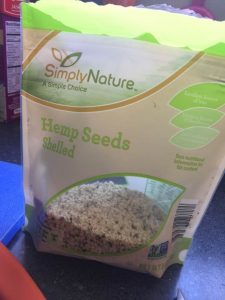 If you love sushi I really think you should give sushi bowls a try. They are quick,easy, and adaptable.  Mine turned out great and with my adaptions it is Shred 10 Friendly which is great because I have a private group starting on March 6th! **I am running a friends and AML fans special right now, if you are interested message me on our Adventures in Mindful Living Facebook page. 
If you want to check out the super easy sushi bowl recipe I followed you can find it by clicking here.  She has a lot of great recipes on there so look around and find some other great recipes while you are there!
Thanks for stopping by! I hope you have a mindfully great day today!