Easy Roasted Red Pepper Hummus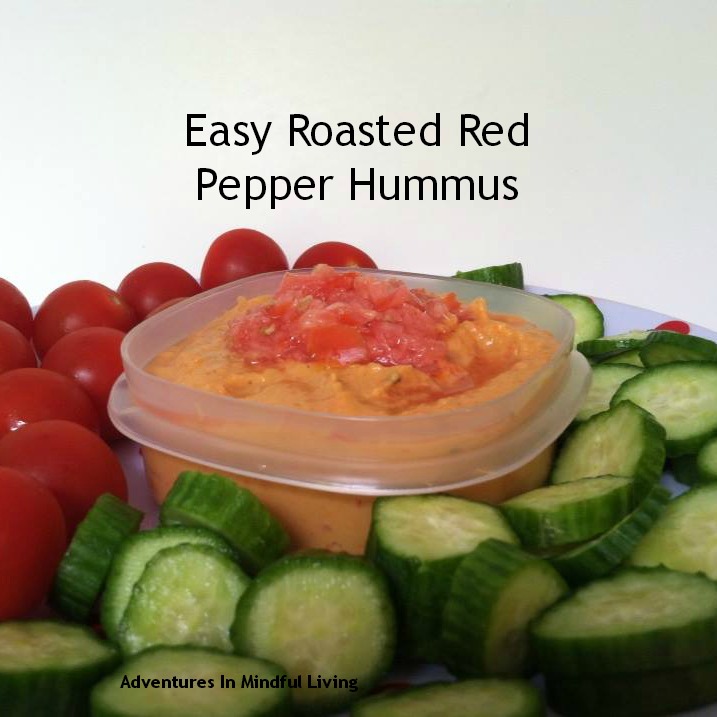 I would have never thought a couple of years ago that I would like any kind of hummus, much less one called Roasted Red Pepper Hummus! I would of thought that was "rabbit food".  It is funny how now I love all kinds of what I used to consider "rabbit food"! People can change , thank goodness!
I have tried a couple of recipes over the year and never found one I liked. I basically took all the ones I liked and morphed them into this one. This recipe for Roasted Red Pepper Hummus is what I used to replace my old favorite snack which was regular potato chips and french onion dip. Now I am not going to lie. I still like to occasionally eat potato chips and french onion dip but  I try to make this most of the time and save the other less healthy snack for special occasions.
I know some of these ingredients might look a little strange for hummus but whatever reason they seem to really work well together! If you are wondering how I ever thought to put mustard in my hummus, I will have to blame that one on my husband. He started it and at first I thought it was really strange to put mustard in Roasted Red Pepper Hummus but when I tried it I was taken back by how good it was! So the point is just give it a try and see! You may find yourself shocked too!
This is the tahini I use. It is what I can find in my local grocery store so thats why I use it. It is one the same row with the peanutbutters and this one was about $6. That is a little pricey I know but you use very little of it so it will last you a long time! Most hummus recipes use it so if you don't like my recipe you can reuse it on another recipe.I tell you that becasue the first time I bought it I was really hesitant becasue it seemed like a lot for me to pay for a recipe I didn't know if I would like or not.
Alright now onto the recipe!
Easy Roasted Red Pepper Hummus
Ingredients:
1 (15oz) can of garbanzo beans ( drained and rinsed well)
4 oz roasted red peppers (I just get the ones in the jar. I get the 8 oz jar and just use half)
1/2 Tbsp yellow mustard
2 Tbsp tahini
1 clove garlic
1/4 tsp cayenne pepper
1/4 tsp cumin
1/2 tsp sea salt
1/4 tsp onion powder
1/2 Tbsp of nutritional yeast ( optional but I really like it in there)
Alright here is the easy part- all you have to do is dump all of that in your food processor and blend till smooth. I blend mine for a few seconds then stop is scrape down the sides ,and blend again.
Serve it with cut up veggies or tortilla chips for a yummy,healthy,and easy snack!   I also like to put it on a wrap sandwiches! I hope you enjoy it and let me know what you think of my Easy Roasted Red Pepper Hummus Recipe!
Easy Roasted Red Pepper Hummus