What should I eat on Transform 30?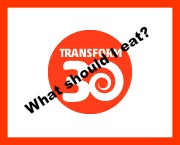 The answer is it is up to you and how closely you want to follow the program. I put together what I basically ate for thirty days and some other suggestions to try to help my customers who asked for meal ideas. I hope this helps!
Breakfast–
This was an easy one becasue I had a Complete Shake every morning. I didnt want to get bored with the same smoothie every morning so I tried several different smoothie recipes. You can find them all here- CLICK HERE FOR SMOOTHIE RECIPES
Lunch-
Another Complete Smoothie
salad (Love my Mason Jar Salads!!)
Wrap sandwich like this one using gluten free wraps 
1/2 cup of hummus with tons of cucumbers or other veggies (used these recipes)
1-2 cups of soup (used these or these recipes, if they had noodles in them I used gluten free)
*I liked the soups becasue I could make up a big batch and eat on it almost all week. Easy and convenient=I'll stick with it!
Dinners-
These include what I ate and what I made my family.
Most weeks I followed the meal plan above perfectly and some weeks life happened and I would just eat a salad or heat up some soup. But I wanted to share them with you so you could get some ideas!
For snacks I ate lots of fresh fruit, nuts and seeds, and cut up veggies.
Some Things I found that really helped-
This helped me so much that I really encourage all of you to go and look at it. It is what your plate should look like. This is on the DanielPlan.com (I highly recomend the Daniel Plan book)
What your plate should look like- CLICK HERE!
Joining a Transform 30 Facebook group. It is a great place to find support and encouragement. If you need one I have one that you are more than welcome to join no matter who your Juice Plus Rep is, the more the merrier is our slogan!
Just shoot me a message through the Adventures in Mindful Living FB page.
Be forgiving to yourself! This is a journey to embark on, so if you stray off the path a little and eat something that might not be the best- don't quit!!
The next meal or snack is a chance to hop back on!
I hope this helps!
Have a mindfully great day! I dare you!
If you are wondering what the Transform 30 program is please get back with the person who sent this to you or your Juice Plus rep. If you don't have one you can check it out here!