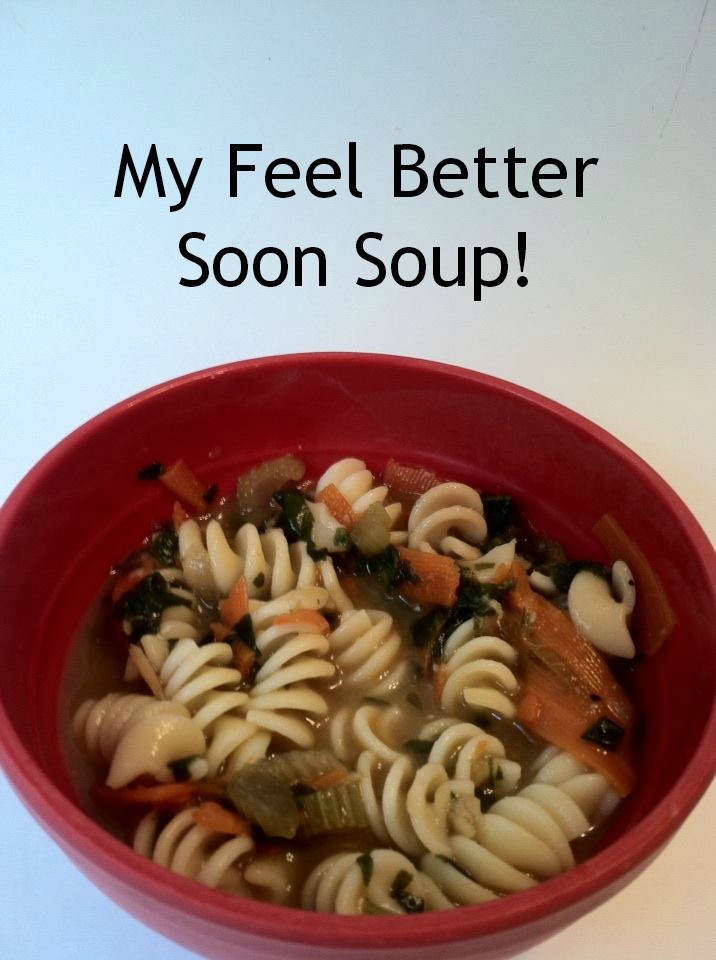 My Feel Better Soon Soup
This is the soup I make when I start not feeling good. I am not really sure what it is about this soup that can make me feel better. I know that garlic and ginger are both really great for you, especially when you are sick,so I am guessing that has a lot to do with it. According to Jenny from Crumbs on my Laptop blog (where I got this fantastic recipe)- Ginger and garlic are a match made in heaven, not just for their taste and good looks, but for their antibacterial, antifungal, and anti-inflammatory properties that will kick that sickness right out of your body.  
I love the mental picture of this yummy soup kicking out all the yucky stuff that is bringing me down out of my body, Don't you?
I follow the recipe except for  a few things. I use what ever noodles I have on hand at the moment.I had these rotini noodles becasue I used them for spaghetti 2 nights ago. I also used spinach instead of the collard leaves just becasue that is what I had in the fridge.  I would like encourage you to always try to use up what you have first with almost any recipe. Doing so is much better for the planet and your wallet!
The first time I made this soup my husband told me he didn't think he would like it but now it is one of his favorites, so give it a try and you too may be surprised at how much you like it! Pop on over to the full recipe at Crumbs on my Laptop. Add the ingredients to your grocery list becasue you are going to want to make this stuff whether you are feeling good or bad!
Does this soup sound good to you? I find amazing recipes all over the internet and post them to all of my social medias so make sure you are following me on Facebook,Twitter, and of course Pinterest (where I house my massive collection of awesome sites) !