Funky Monkey Shake- A healthier alternative to a milkshake!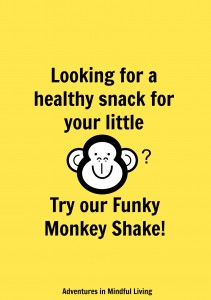 This is one of my go to recipes when I am craving a milkshake. Instead of partaking in an ice cream milkshake (which is loaded with Trans fat, cholesterol, and mega calories) ,I throw a few simple ingredients in a blender and enjoy!
The frozen bananas in this Funky Monkey shake give it a wonderful ice cream texture and a richness that will make you keep coming back for more!  Use this as a base recipe and add more or add less ingredient amounts until you find your perfect Funky Monkey Shake!
Funky Monkey Shake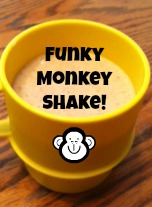 1 cup almond milk (or other nondairy milk)
2 Frozen bananas
1 Tbsp of Peanut butter (or nut butter of your choice)
1 Tbsp of vegan chocolate chips
1 tsp vanilla
1 scoop of my new favorite protein powder for extra nutrition (optional)
Blend all ingredients in a blender until smooth, if you need to stop your blender and scrape the sides or add more almond milk go ahead!  Serve and enjoy!!
If you enjoyed this post please leave me comments ( I love to hear from you guys!! ), or share this post!
This recipe was shared with Urban Naturale ,
Funky Monkey Shake