Lasagna Soup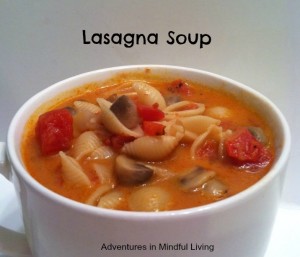 Lasagna Soup
Lasagna Soup is an easy and delicious way to enjoy one of my favorite comfort foods in a bowl! This is how I get my super cheesy cravings satisfied without adding in tons of cholesterol,calories,and other bad stuff .There are two ways to make this soup. This one is the easiest so I wanted to share it first. The one I will share soon takes a little more work, but it still well worth it!
Ingredients:
4 cups Vegetable broth
2 cans diced fire roasted tomatoes
¼ cup raw cashews
2 Tbsp of Nutritional Yeast
1 cup hot water
2 garlic cloves- smashed and peeled
2tsp dried basil or a handful of fresh basil leaves if you have it
8 oz your favorite noodles cooked (see note below)
1 onion diced
1 (8oz) container of mushrooms sliced (optional- but we like it)
Salt and pepper
Directions-
First go ahead and sauté your diced onion. You can do this in a small amount of oil or if you are plant based you can do this by using small amounts of water (start with a tablespoon of water at a time). Just keep an eye on it so it doesn't burn. If you are adding the mushrooms go ahead and throw those in with the onion now too.
While the onion is cooking, get your raw cashews, nutritional yeast, garlic, basil, and hot water together. You are going to put them all in blender and blend till the mixture is nice and smooth. If you have a high powered you can do this easily. I use my Nutri-Bullet and mine comes out fine. If you have an older blender you might want to let your cashews soak for an hour or two to make it easier on your blender. If you don't have an hour or two to make your lasagna soup you can still do this. Just let them soak in hot water while you get the rest of the soup together. You can add this at the last minute and it will come out fine. With older blenders sometimes you have to blend for a minute or two and then stop. Let your blender rest, and then blend again. You may have to do this several time to get it really nice and smooth. Also do not worry if it has a slight green tint, which is from the basil. Your lasagna soup will not be green!
Once you get your onion is nice and soft go ahead and add the broth, and the cans of roasted tomatoes (don't drain them, just open and dump!). Bring that to a boil and then turn the heat on your stove. You are going to want it to shimmer for about 10 minutes. Stir it every once in awhile just to make sure nothing is sticking to the bottom of the pot.
Next add your noodles and the cashew mixture from your blender to the pot. Stir really well to make sure everything gets mixed well. Let your soup simmer for about 5 more minutes and then it is ready!
*Note on the noodles- use whatever kind your family enjoys. I usually use whatever I happen to have in my pantry at the time.
Now the deliciously fun part! Enjoy eating your Lasagna Soup!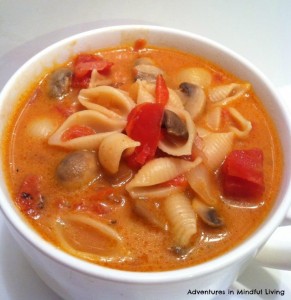 I will try to add the nutritional information on a later date so you can see why this soup is better for you than the typical Lasagnas Soup recipe. Until then I used Calorie Count to analyze the recipe.
Nutritional Analysis
Good points
I would also like to add there is no cholesterol in this soup, so for those of you who have high cholesterol   but still want a super yummy and cheesy soup, this is the one for you!  Also watch how much salt you add because this soup is higher can be higher in sodium.
Sharing this recipe with Urban Naturale, Essential Things Devotions, Allergy Free Alaska,
Lasagna Soup