Mexican Cheese Dip Recipe
Oh how I have missed mexican cheese dip recipes. I know all the reasons they are bad for me,but I still miss them. The queso dips, the nacho cheese dips, all of them.  It was one of my family's favorite treats on taco night. When we decided to get healthy it was one of the first things to go. Not only did it have the dairy that was making me sick but all the preservatives and other crazy stuff that is horrible for you. It was also loaded with calories and cholesterol. I waved goodbye to the thought of ever having an easy and yummy mexican cheese dip recipe that we could enjoy.
Until……
I was making some Moxi Cheese and I had my husband's salsa on the counter next to me. The light bulb went off over my head. I finished up that batch of Moxi Cheese and then started thinking. The next night I decided to come up with a mexican cheese dip recipe. I didn't even want to look at anyone else's recipes.  (Sometimes that just messes my creative juices up.)  I just decided I was going to stick with this until I got it right. After a couple of tries and some tweaking I came up with this amazing one.
I thought some choir should start singing somewhere when I finally got this recipe right. Yep I liked it that much. Silly I know. To most of you that won't make sense why it was so cool that I came up with a mexican cheese dip recipe that was delicious and dairy free. It wasn't just to share it on my blog for Super Bowl Snack Attack week. It meant I could add back in a favorite family tradition of ours. That is very comforting to me because I love all of our family traditions. I realize that kids grow up, move out, and start families and careers. My time with them is pretty short when you look at the big picture so I like to do these traditions to make memories and to make sure they know I think they are special.  (Goes back to that "mindful thing" I like so much!)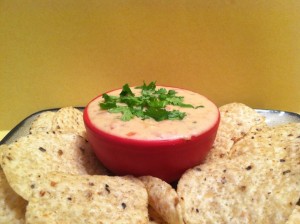 Now – On to the recipe!! My friend Tiffany helped me name this recipe because I thought Mexican cheese dip recipe just didn't say how it was so good that I really wanted to lick the bowl clean when it was done.
A note about this recipe- I use my Nutri Bullet to blend up some of my ingredients. If you don't have one then you can use a blender. If you don't have a high powered one then make sure you soak your raw cashews in some water for a couple of hours. Before I got my Nutri-bullet I used a cheap blender from Target. To get the dip really smooth in a regular blender simply blend for a minute or two, let it rest and then blend again. Sometimes I would have to do that a couple of times but it was well worth it!
Awesome Mexi Dip-
Ingredients:
½ cup raw cashews
3 Tbsp tapioca starch (or tapioca flour- same thing)
2 cups hot water
2 Tbsp nutritional yeast (Don't know what that is read about it here)
3 smashed and peeled garlic cloves
1 tsp of sea salt (feel free to use less- you can always add more later if you need too)
2 tsp of fresh lemon juice- don't worry about measuring this out just cut one on half and give it a good squeeze)
1 can petite diced tomatoes drained (or feel free to dice your own fresh tomato if you have one)
1 cup of your favorite salsa (these are our two favorite recipes here and here)
This recipe is pretty easy. Put all the ingredients except the diced tomatoes and the salsa in a blender or your Nutri-Bullet (please see recipe note above). Blend until smooth. Pour that mixture into a sauce pan. Add the diced tomatoes and the salsa. Now heat over medium heat until it starts to thicken. You can decide how think you want yours to be. I like our a little thick but still runny (as you can tell from the picture below). If you wanted to make this up ahead of time and stick in the fridge it would be fine. Just stir well and reheat when you are ready.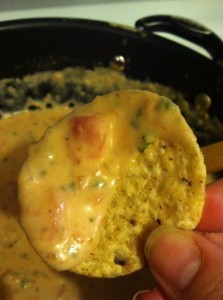 Serve it with your favorite tortilla chips and sit back and enjoy!
Have you found any healthier replacements for any of your family's favorite treats? Leave me a comment and tell me about it!
Linking up this post with Vegan Virtual Potluck,
Mexican Cheese Dip Recipe