Nature Scavenger Hunt
with FREE PRINTABLE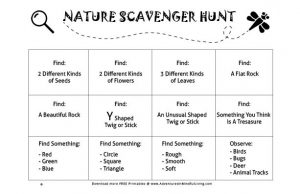 We love using nature scavenger hunts in our schooling. Its a fun and perfect thing to get kids outside and using their observation skills.
It is also my one of my favorite ways to overcome one of those rough days we all have. You know the ones where everyone (including me) is in a bad mood and no one wants to do anything.  Yep those days- just print out this nature scavenger hunt printable and head outside with the kiddos. I have found when we head outside, our mood magically becomes better!
I love to just print it  out and stick it on a clipboard. We check off things as we go on hikes or short nature walks. For us the key is engaging in conversations about the things we see along our walks together. As we are checking things off there might be something that really interest one of my kids (like a piece of rose quartz or a butterfly). Whatever it is,I like to snap a picture of it or make a note on our sheet. Then when we get home we google it or look though a book to find out more. Its doesn't have to take super long or it can. Its up to you, you know your kiddo the best. I like to end on a good note or when I see them starting to lose interest.
Another reason I like using this one is you can use it at the same place over and over again or take it to a new location. It will always be different becasue what your kids are observing will always be different depending on the season, day, or even their mood.
I have two sizes to choose from. I had my husband design these in black and white so it wouldn't eat up that precocious ink!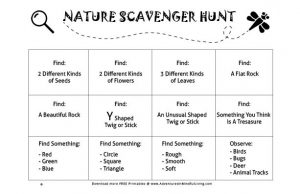 Full page Nature Scavenger Hunt free printable (click here)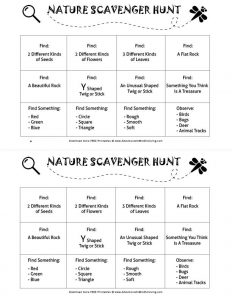 Half Page Nature Scavenger Hunt free printable. (click here)
Feel free to share this post with any of your friends and family! If you have any great ideas for a nature scavenger hunt, let me know in the comments!