Sub Sandwiches done right!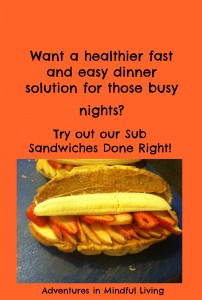 We all have that night. You know the one where everyone seems to need to be somewhere like Scouts,dance,or some kind of practice? Well for me that night is Monday night. I used to try to make a nice meal on Mondays. I thought if I just started the meal prep earlier maybe I could get them fed and out the door on time. I pulled that off a couple times but with life sometimes stuff just happens. Babies get cranky, school needs to be completed, laundry has to get folded sometime, and the kitchen needs to be at least clean enough to where DSS isnt going to show up. Ok my life  is not that crazy but you get the point. I needed an easy meal I could put together pretty quickly without a lot of effort ( my effort needed to be saved for finding something that always seems to be lost like a hat or a shoes!)
My solution- Sub Sandwiches!
Oh great you are thinking- sandwiches?Thanks Amber for your brilliant idea! lol!
These are not just any sub sandwiches! These are sub sandwiches done right! What does that mean? Well instead of the normal meat filled sub this is a healthy fruit and veggie filled sub!  It is a great way to get your fruit and veggies in and kids seem to really like the novelty of it.
It is pretty simple-
All you need to do is cut your sub open. Spread peanut butter ( or your other favorite nut butter) on both sides lightly. Layer bananas,apple slices ( cut them thinly to make them stack right),and strawberries on (or whatever fruit and veggie your family likes). I like to pulse up some carrots pretty finely and sprinkle it on one side of the sub.Close up the sandwich and serve with some popcorn (need a recipe click here) for a fun,healthy,and easy meal!
Do you want to make this a Secret Agent  Recipe?
A Secret Agent Recipe is one with hidden veggies or other nutrient packed ingredients. These recipes give you practical ways to add in nutrition without the added fuss and flavor of the ingredient. For more Secret Agent Recipes check out my sidebar in the categories!
To make this a Secret Agent Recipe  take a little pumpkin puree and mix it with your peanut butter before you spread it on. That way you can get all the benefits of pumpkin without the taste. Start with very little amounts and work your way up!
I hope you will give this recipe for Sub Sandwiches done right a try! These are so much cheaper and better for you than running throw a drive thru or popping something in the microwave!
Did you like this post? Want to share it? Go ahead!! Pin in,Tweet it, or share it on your Facebook wall! Let me know what you think of it! If you make it -post pics of yours on our Facebook wall! We love to see our recipes helping families!  
Sharing with Foodies & Crafties link up party,
Sub Sandwiches done right!