Super Easy Banana Nut Bread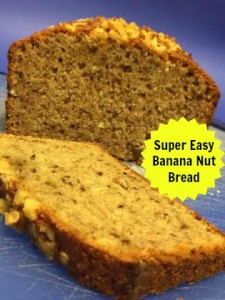 Banana Nut Bread is super easy to make and makes a nice treat anytime of day! I will make a healthier version later , but this is the one I make for my family and for everyone at the holidays! If you want to make this one healthier just pair it with a healthy shake like this one! For my friends with nut allergies I have made this without the walnuts and it is still really good!
Super Easy Banana Nut Bread
Ingredients:
1 1/2 cups of sugar
1/2 cup butter (room temp, softened)
3 ripe bananas mashed (the riper the better)
1/2 cup of chopped walnuts (or other nut you prefer like pecans)
2 eggs
2 cups all purpose flour
1/2 tsp baking soda
1/3 cup almond milk (or whatever milk you are used to)
1/4 tsp salt
1 tsp vanilla extract
Directions:
Preheat oven to 350 degree (F). Lightly grease a 8×4 inch loaf pan.
Combine all the ingredients (except 1 Tbsp of the walnuts) and mix well. Pour batter into loaf pan. Sprinkle the remaining walnuts over the top of the mixture and bake for 60 minutes. You will know its done when you can insert a toothpick or knife and it comes out clean.