Zesty Lemon Pie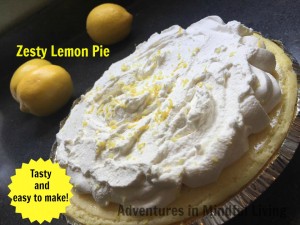 If you are looking for a delicious lemon pie that will knock the socks off your guest (or yourself) then this is the recipe for you! I have made this for years now and I wanted to finally put it here so I could share the recipe easier.
This is certainly a treat and not healthy at all but I think a treat every once in awhile isn't a big deal (plus I take this to help me bridge the gap between what I do eat and what I should eat)! So enjoy it in moderation!
You can make this lemon pie up a day or two before you need it but beware it will take a lot of will power not to eat it. Just keep it in the fridge until you are ready to serve it. I love to make the graham cracker crust but if I am in a hurry I just grab a graham cracker crust from the store.
Ready for the recipe? Click here to get it! 
What are your favorite "treat" recipes for holidays or special occasions? Tell me in the comments or leave me a link to it so I can try it out one day!