Easy Breakfast Cookies
We love easy breakfast cookies! I make a batch a week for quick breakfasts or quick snacks. This is my basic recipe for easy breakfast cookies. It is easy to tweak to what you and your kids like. Add more or less of ingredients based on what you have on hand or what works for your dietary needs.
A few notes on tweaking the Easy Breakfast Cookies Recipe–
I use 1 cup of sugar in this recipe. You can reduce it or use other sweeteners depending on what your family is used to. I will tell you in my experience it is easier to use the full cup and have them be sweeter than you are used to and then on following batches slowly cut out some if not all of it. That is what I have been doing slowly with my family.
I use a whole foods plant based protein powder in mine to increase the nutritional value of the cookies. This is the one I use ( I like to use the vanilla on one batch and the next so they always taste a little different). I have made these with the protein powder and without. When I go with out it I add a little more sweetener to it. If you have a protein powder you use that is safe for kids feel free to use that one.
If you can not find the Trilogy mix (see picture below) simply add 1 Tbsp each of chia seeds, flax seeds, and hemp seeds. Again, its better to start off with smaller amounts and let your kids and family get used to it then use a larger amount and have to scale it back after no one will eat them.  I found mine in the Walmart baking aisle but you can also get it here online.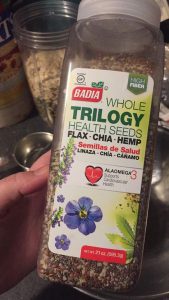 In my basic easy breakfast cookie recipe below I use pumpkin seeds and walnuts. I have made these with several different kinds of nuts and they have all been good. Use what you can find or what you have on hand.
Now on to the recipe-
Easy Breakfast Cookies
Ingredients:
1/2 cup of butter
1/2 cup of coconut oil (this does give it a slight coconut taste, if you don't like that use butter)
2 eggs
2 tsp of vanilla
1 scoop of vanilla or chocolate plant based protein powder (see notes above)
1 cup oatmeal
3 Tbsp of Trilogy (see note above)
1 cup pumpkin seeds
1/2 cup walnuts
2 tsp of baking soda
1 tsp of salt (I like sea salt)
3 cups all purpose flour
1 cup chocolate chips
Directions-
Using a food processor or strong blender go ahead and blend up the oatmeal and all the seeds (including the Trilogy mix). Ill pulse mine a couple of times and get it to look more like bread crumbs. I have kids with some sensory issues so this is how I sneak all this goodness in. If you prefer to leave them whole, go for it.
(I use my stand mixer to mix everything together but you could certainly mix this by hand.)
Cream together the butter (room temp/ softened butter works best), coconut oil, sugar, vanilla, eggs , and protein powder if you are using it. I like to do this for awhile and let it get nice and fluffy.
In a separate bowl mix the other dry ingredients together.
Slowly add the dry mixture to the wet creamed mixture and blend.
Once you get it all mixed together, put it in the fridge for at least 30 minutes. I have no clue why this makes them turn out better but it does!
Preheat your oven to 350 degrees.  I use an ice cream scoop to scoop out the batter and put in on the pan. I find this keeps them all the same size (great for cooking and for kids who don't want someone to get a bigger cookie than them). In my oven these easy breakfast cookies take about 13 minutes to cook. Keep an eye on yours because oven times/heat can vary.
This recipe makes 10 big cookies when you use an ice cream scoop. You can make yours smaller and get more out of this.
I hope you enjoy this recipe for easy breakfast cookies, let me know how you tweak yours!