Jeremy's Spinach and Artichoke Dip
As as thank you to my subscribers I sent them out this recipe for  spinach and artichoke dip  in our newsletter last week. I love to do things like that so make sure you are subscribed to our FREE newsletter  so you get great recipes earlier than everyone else!
This Spinach and Artichoke dip was just too good  not to share with everyone! Once you make it , you will find yourself craving it! It is that crazy good!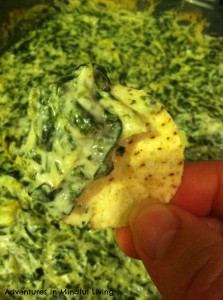 Jeremy's Spinach and Artichoke Dip
Ingredients:
1 cup raw cashews
3 cups warm water
5 cloves of garlic
2 tsp of sea salt
¼ cup of nutritional yeast (if you don't know what this is read this)
Dash of pepper
½ yellow onion diced
½ cup white wine
1 lb (16oz) of frozen spinach (cooked however its package tell you too)
14 oz can of quartered artichoke hearts
1 tsp of garlic salt
1 tsp of garlic powder
1 tsp onion powder
Directions:
1.  Preheat your oven to 400 degrees.
2.  Put the following in a blender or your Nutri-bullet
(if you don't have a high powdered blender you will need to soak your cashews for at least a hour, the longer the better)
1 cup raw cashews
3 cups warm water
5 cloves of garlic
2 tsp of sea salt
¼ cup of nutritional yeast
Dash of pepper
Blend until everything is smooth. If you need to you can stop your blender and let it rest for a little while and then blend again. Before I got my Nutri-bullet I had to do this several times.
3.  While that is blending go ahead and sauté your diced yellow onion. You can do this in a little bit of oil or if you are oil free you can do this with a few tablespoons of water. Just keep an eye on the onions so they don't burn or start to stick to your pan.
Once your onions are nice and soft go ahead and add the white wine. Let it cook down just for a minute or two. Add a dash of salt (We use Sea Salt).
4.  Next pour in the cooked (and drained) spinach. Add the cashew mixture from the blender to your pan.
5.  Add in the artichokes, garlic salt, garlic powder, and onion powder.
6.  Mix well and pour it into a 13X9 baking dish. That is the size I always use. You could use another size but your baking times will be different.
7.  Put it in the oven for 10 minutes (really allows the flavors to start blending) pull it out and stir it really well. Then put it back in the oven for another 10 – 15 minutes.
8.  When it is done pull it out of the oven and let it rest for about 5 minutes. Be very careful, it will still be very hot. We like to garnish our Spinach and Artichoke dip with diced tomatoes. The more the merrier!
I hope you enjoy it! If you make this Spinach and Artichoke dip,  I would love to see a picture of it! Feel free to post a picture of this recipe or any other of my recipes on our Facebook page! 
This post was shared on Urban Naturale link up party,A life in Balance 
Jeremy's Spinach and Artichoke Dip