Penguin Unit Study fun!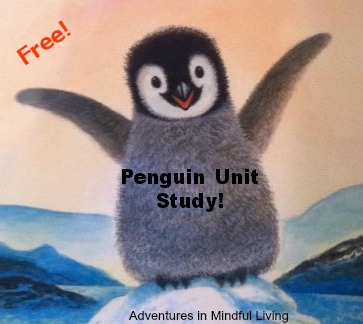 We love unit studies,they are such a fun way to  learn about a topic. When we received a Curiosity Quest DVD to review I noticed one of the topics they covered  was penguins.  I thought what a great excuse to do a penguin unit study! I knew that penguins would be something that would interest both of my younger kids. I went on the trusty internet and hit up the library and pulled some fun things together for us to do. I wanted to share some those fun things we did for our penguin unit study!
These were the books we read. We found these at our local library. You can buy these through our affliate links below or just go to your library and find some good childrens books on penguins!
We read this book online about how penguins grow. It is more geared towards really little kids ( 0-3) but I thought it has some great pictures in it for older kids too. This was one that my son could read to my daughter so that was really special.
I had my son read the My Seasons with Penguins book for a quiet read time book and then I had him fill out this sheet about what he had read. I thought it was a good way  to check his reading comprehension and get some writing practice in. It wasn't to long or overwhelming which is perfect for my reluctant writer. We just used page 2. This form came from this post about another animal study but she has some great ideas on her site so I wanted  to include it and give her credit!
Movies we watched for our Penguin Unit Study-
Netflix Instant  Streaming- Antarctic Wildlife Adventure. This movie is not action packed or anything but it has some good information on penguins. You can read the description on Netflix and watch a little bit of it and see what you think. It follows a family that is studying in Antarctica.You get to see a  good amount of geography of Antarctica in this film. The kids are homeschooled so my son thought that was neat.  You also get to see some environmental factors that affect the penguins.
Curiosity Quest-DVD Combo Pack – Swimmers of the Sea
Other Free Resources we used for our Penguin Unit Study- 
This is a great lapbook! It is free but you have to register with the page and they will send you an email, you confirm it and they will send you your download. A lot of steps to go through but the lapbook is worth it. I would gauge it maybe elementary school – middle school. You could  just have your older students go more in depth than your younger ones.
Here are some pictures of Jayden's lapbook ( we got these from the link above).
While Jayden worked on his lapbook I printed out a couple of penguin coloring sheets and activities for Charlye to do. I stapled all of her together so she felt like she was working on her own lapbook too.
Here are some pictures from our lapbook and of Charlye's creation! ( the links we used will be below). I would like to say here that I am not super huge on worksheets for little kids. I print these out more to kind of keep her busy and let her feel like she is doing school like her big brother. If she wants to do these she can, if not and she wants to play – I am totally fine with that!  Kids learn better through play anyway.
Links we used for Charlye's book-
ABC count by numbers penguin page 
Penguin and chick coloring sheet 
Letter P Penguin coloring sheet
Here are some more fun facts about Penguins. You could read these to your kids just for fun!
I hope this post has given you some good ideas for a penguin unit study. Let me know if you have any more great resources to add in to this post!
Penguin Unit Study fun!