Simmering Potpourri – How to make your own!
I have always been a fan of lamp oil and candles becasue I love a great smelling house. Unfortunately I live with children, a cat, and I love to cook with things like onions, garlic, and fish. So needless to say, a nice smelling home is not always what I have. While I still love candles and lamp oil I can not always use them or I run out of them pretty fast. My solution came one day after I had been slicing oranges u for snack and was trying to think of what I could do with the orange peels. I remembered my mother in law would put them on the stove with some other stuff and her house smelled wonderful. I rummaged through my cabinets and found some herbs and spices. From that day forward I was hooked!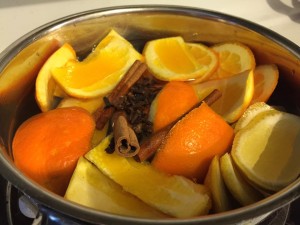 I wanted to share it with all of you in case you were looking for a way to make your house smell better naturally. Of course there are other great options like using essential oils, opening up the windows for awhile, or spraying a natural room fresher (recipe coming soon). But for those times you don't you should try this instead!
This is basically the one I made. (I didn't have any cranberry's ) It is for a tiny crock pot but has instructions at the end for if you want to use the stove top version.  The other recipe on there looks great too! I am going to be growing Rosemary in my Tower Garden so I am going to make that this summer!
This is another great recipe that has really easy to follow directions.
This post has several different recipes  that you can try depending on the season!
I hope these have given you some ideas of how to make your home smell better naturally! 
What do you put in your homemade potpourri?