Healthier Alfredo Sauce (Loaded with Veggies)
(There are affiliate links on this page, any amount made from these links help with the upkeep of this website!)
This Healthier Alfredo sauce has quickly became one of my favorite meals! It is sooo much healthier than the typical Alfredo sauce not only becasue it is drastically less calories but it has no cholesterol in it.
I know to some of you using cashews instead of a cheese or milk seems weird. The first time I saw it I thought the same thing and so did my husband. I read tons of reviews and decided to try this recipe first. We loved it but I wanted to cut down the amounts of raw cashews because they aren't the cheapest things in the world. By the way I now buy mine online
in bulk or I find them at my local health food store in the bins for MUCH cheaper. After some tweaks and lots of taste testing (which no one complained about) we settled on this one below as our favorite for a healthier Alfredo sauce. We load our up with veggies to add in extra nutrition and fiber to it but you can really put just about anything in it and it taste good!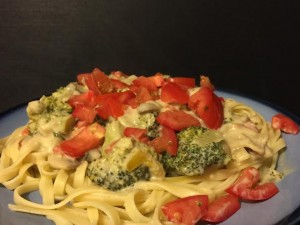 Healthier Alfredo Sauce (Loaded with Veggies)
Ingredients:
1 cup Raw Cashews
2 cups water
4 garlic cloves (smashed and peeled)
1/3 cup Nutritional Yeast
1/2 cup white wine
salt and pepper
Whatever veggies you want to put in-I always use mushrooms, 1 yellow onion, a red pepper (or any other colored peepers I have that aren't green, I am not a fan of green peppers), and steamed broccoli. I had some leftover asparagus that I used one time that was sooo good! This Healthier Alfredo sauce is a great way to use up leftover veggies so look in your fridge and see what you have.
Directions-
In your blender soak the raw cashews , garlic cloves, and the nutritional yeast in 2 cups of hot water. The longer you soak them the easier they are to blend. I have a nutribullet and it does a great job even if i forget to soak them, but if you have an older blender you might need to let yours soak for about 30 minutes or longer if you can. I always start mine soaking right before I start cutting up my veggies.
As those are soaking go ahead and start sauteing your veggies you want to use. You can look above and what I use. I like to use a pot that has high sides on it when I make this becasue I stir it a lot and I don't want it making a  mess on my stove top.
Once your veggies that you choose are getting nice and soft, it will be time to add the white wine. I prefer Chardonnay but that's becasue I enjoy drinking it. Any white wine will do really. Once you add the white wine you just want it to cook down for a little while. Stir your veggies around so they don't burn.
While the wine is cooking down go ahead and blend up your cashews, garlic, and nutritional yeast. I let mine blend for a couple of minutes but I have a Nutribullet so it does a really good job in a short amount of time. If you have an older blender you might have to blend for a minute or two and then stop your blender and let it rest so you don't burn it out. Just keep blending till it looks really smooth. A good way to know it is ready is open the lid of your blender and stick a spoon in (not while its still blending though- have some sense). If you can see lots of chunks of nuts on the spoon then you need to blend for longer.
Once you get it all blended up nice and smooth go ahead and pour it into the pot with your sauteed veggies and white wine. Stir really well. Sprinkle some salt  and pepper in and stir again.
This is the part of the recipe where you are going to look at this Healthier Alfredo Sauce recipe and wonder if it will ever thicken up. It will!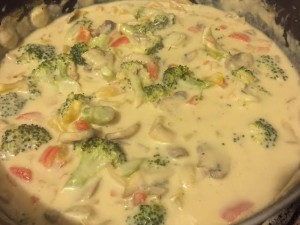 Let it cook for several minutes and it will start to thicken up. If it gets to thick you can add a little more water to it.
Now the fun part of this Healthier Alfredo Sauce Recipe, pour it over some noodles and enjoy!
For my friends that are doing the 6 Week Transformation, this is a great recipe for you! If you are on Transform 30 this is a dairy free Alfredo sauce so just use zucchini noodles or a gluten free pasta and this would be a great option for you!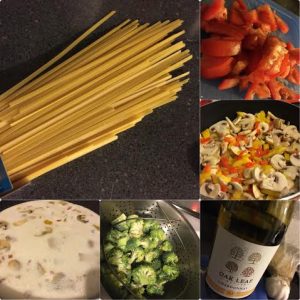 I hope you all enjoy this Healthier Alfredo Sauce as much as we did! Feel free to share this recipe!