Nacho Grande!
(A healthier version-so you can eat more and not feel bad about it!) 
Nacho Grande
This is one of our favorite meals. Nacho Grande is easy to make and fills us up! Cleanup is amazingly easy so this makes it almost a perfect meal to me!
Our old version of Nacho Grande was almost a heart attack on a platter. It was loaded with ground beef and smothered with two kinds of cheeses. It might have tasted good for a minute but it sure wasn't good for us. It had tons of calories, saturated fat, and was loaded with cholesterol. Plus who knows what kind of antibiotics and other stuff that meat had in it from the crap they give cows nowadays. We would scarf it down and then feel miserable.
This was another one of those meals that I just thought we needed to say goodbye too. But one of the amazing things I am learning on this journey to better health is you don't have to say goodbye to every meal or snack. Most just need to be tweaked and your family can enjoy them again.
This was one of those meals I could just tweak and the result was soooooo good! It is now one of our favorite meals to make for stay at home date night. We make a huge batch and just sit beside each other and enjoy it while we watch our favorite show. Afterwards we feel stuffed but not miserable.  This is one of those meals that doesn't make you feel like you are eating healthy, you just feel like you are eating a really good hearty meal.
Nacho Grande would make a perfect meal or snack for any game day, date night, or get-together! Go ahead and give it a try and let me know what you think! Remember this is only a base recipe. It is easy to tweak for your family's likes and dislikes! My husband likes to add some very finely diced jalapenos to some of his and my son likes for me to just make him a small pan of just tortilla chips and the Mexican cheese dip.
 A few easy steps and you have an awesome meal! 
Step 1- Cover your cookie sheet or pan in aluminum foil. This is going to make cleanup a snap! Pour out some tortilla chips on the pan.
Step 2- Add your some awesome fillings! We used corn, salsa, and some black beans. I usually also put some diced up tomatoes .  (I ran out and didn't want to go to the store so that is why you don't see them!) Some diced bell peppers would also be great! I am not using amounts because it will depend on how many people you are serving. If you are using canned ingredients just make sure you drain and rinse them really well.
Step 3- Cover with this Mexican Cheese Dip Recipe. Using this dip is a big step in making this amazing meal healthier for you. By using this dip instead of regular cow milk cheese you are cutting down your calories and saturated fats. The mexican cheese dip recipe also has no cholesterol (cholesterol comes from animal products- this recipe has none.)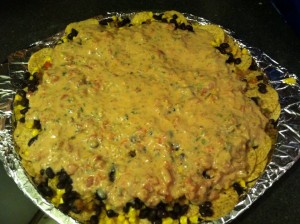 Step 4- now put your beautiful meal in the oven and let it get warm. I put mine in at 400 degrees for about 10 minutes. Just keep an eye on it so nothing burns.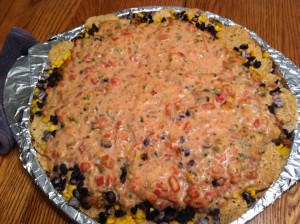 Pull it out of the oven and enjoy! Serve it anyway you would like! You can leave it on the tray, just make sure you put a towel or a couple of pot holders underneath it to protect your finishes! If you want to garnish it with anything you could always use some fresh cilantro or even some thinly sliced green onions.
When you are finished with your delicious meal, clean up is a snap!
Go ahead and share this ,pin it, or tweet it! 
Nacho Grande